Written by Lisa Williams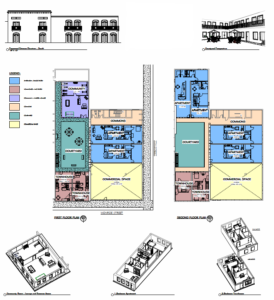 Most people use interior designer and interior decorator interchangeably but, these are actually two different professions.  An interior decorator is an individual or firm that generally specializes in consulting on color selections and finishes – the "look" of a room or area.  An Interior Designer is a Design Professional, certified and registered with a national oversight group.  So what is the difference and how do you become an interior designer?
The dictionary defines interior design as the art and science of enhancing the interior of a room or building to achieve a healthier and more aesthetically pleasing environment for the people using the space.   An interior decorator does some of the art, but an Interior Designer has to be responsible for the science as well.  An Interior Designer has to understand building codes and building systems as well as nationally recognized standards of practice.  An Interior Designer has training to get information to understand how people work or live in their environment and translate that into functional and beautiful spaces.  In order to become a registered interior designer in the State of Illinois, one must pass the National Council for Interior Design Qualification (NCIDQ). The Designer needs to be eligible for taking the examination. There are multiple routes to become eligible for the examination and I will explain the route I took to become a Registered Interior Designer.
The first eligibility requirement is education. It is required to have a bachelor's or master's degree with a CIDA-accredited interior design program. CIDA stands for Council of Interior Design Accreditation. Again, there are alternative routes if your interior design program is not CIDA-accredited, but this method is straightforward and provides the necessary training. The next requirement is at least 2 years of qualified work experience. The best way to get this experience is to work under an NCIDQ certificate holder or under a licensed architect, where your hours are valued at 100%. If you are self-employed or are not supervised by a design professional, your work hours are valued at 25%, so it may just take longer to achieve the required hours.
Once you have completed your required hours (at least 3,520 hours or 2 years full time), you may apply to take the NCIDQ examination. The NCIDQ is comprised of three parts: two multiple choice exams and the hand-drafted practicum. Each of the exams focuses on the following seven content areas, as developed by CIDQ: building systems, codes, construction standards, contract administration, design application, professional practice and project coordination.
The exams take 2-days to complete. The first day are the multiple-choice exams. The multiple-choice exams are the Interior Design Fundamentals Exam and the Interior Design Professional Exam. The final day is the 8-hour Practicum Exam. This exam has 7 exercises to be hand-drafted. They are space planning, lighting design, egress, life safety, ADA restroom, systems integration and millwork. All 3 exams are limited on time. They offer these examinations two times a year and you have a five-year window to pass the examinations. Once you have passed the NCIDQ, you are eligible to register with the state!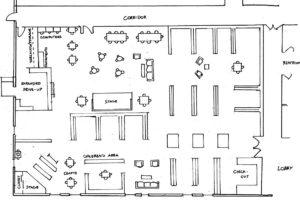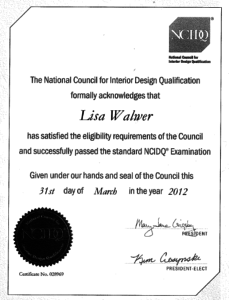 An interior decorator does not need to do any of these requirements. In fact, their focus is more on the aesthetics of the space. They are not required to have any formal training or schooling. They generally do not participate in renovations or structural planning. But a good decorator is skilled at coming into a space and helping the client to dress it with a harmonic design concept that could include lighting, fabrics, furnishings, art, paint etc.
In short, an Interior Designer may decorate as the finishing touch to a design process, but interior decorators do not design.
Interior Architecture & Design Projects